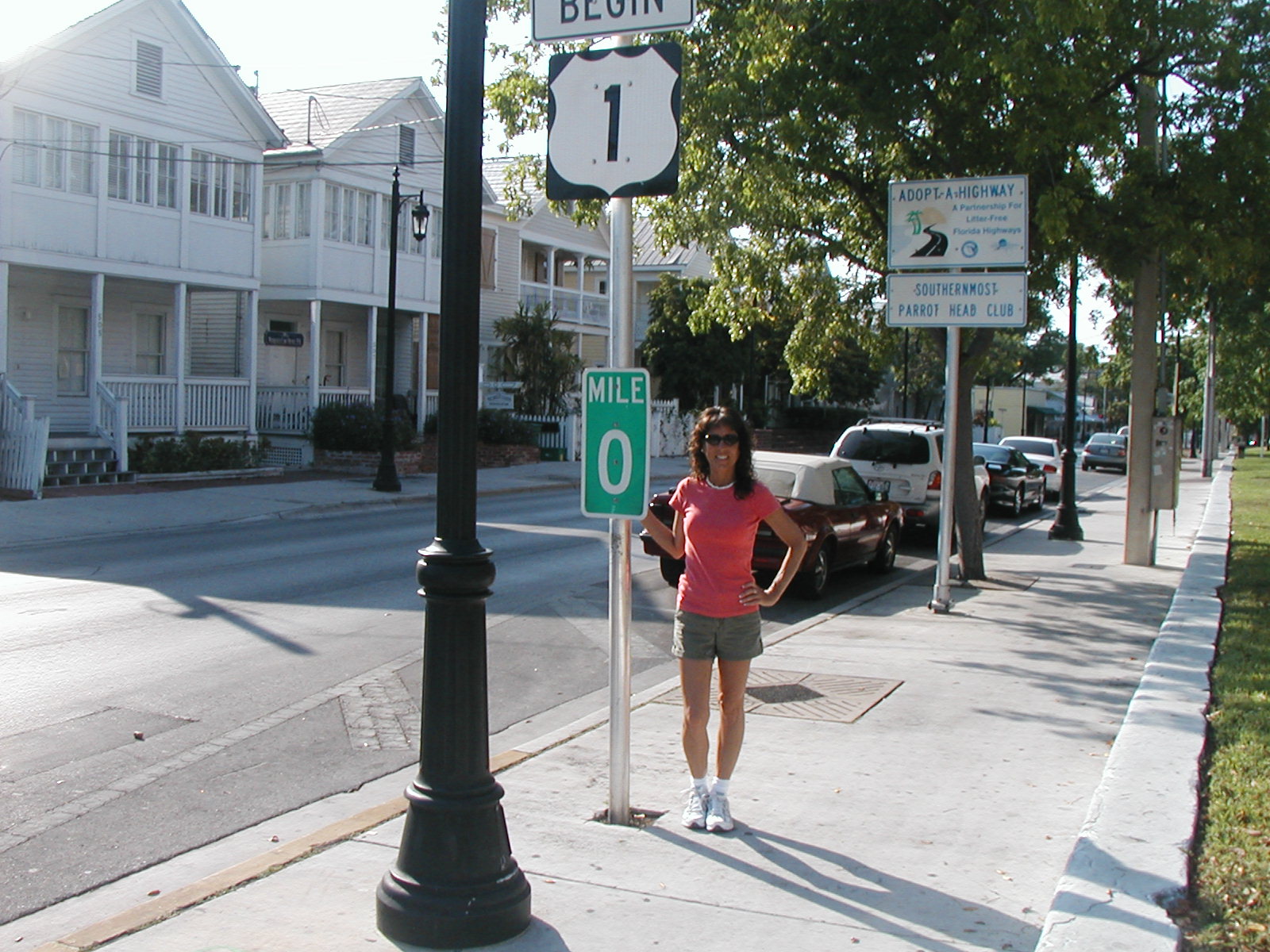 I can understand why a Key West vacationer would feel compelled to depart their established life with its demands, duties, and drudgeries to move to the Florida island without expectations nor a job awaiting them. Having just returned from a week on the six square mile key that defines itself by wood cottages painted in bright pastel hues, lush foliage and flowering trees, mesmerizing sunsets, and turquoise waters, I'm overcome with a sense of longing to call myself a resident of the aptly named Conch Republic.
The Florida Keys are deceptive, having the appearance of being just a handful of small islands. The most recognizable being Key Largo, at the north end, and Key West, the farthest south. The Keys are joined together by a stretch of Hwy 1 and several bridges, one of the most famous being the Seven Mile Bridge which connects Knight's Key (considered to be part of the Middle Keys) with Little Duck Key, the first of the Lower Keys. In truth, there are well over a thousand keys, with names as bland as Sand Key and Grassy Key to those with unusual names such as Lignumvitea Key and Bahai Honda Key. There is even a No Name Key, suitable for those in a witness protection program.
Should one opt for the hundred plus mile drive down to Key West along the at times exasperatingly slow-moving and often single lane highway, one can look forward to unmatched views of tropical island life, grassy marshes, and breathtaking seascapes, as well as outdated, awry towns , containing rickety shops with make-shift signs, road-side eateries with screened-in picnic tables and hanging fly traps, and tourist attractions with a sort of thespian, old world quality.
Eventually one arrives at what seems like a completely separate (and in summer, a syrupy hot) cosmos. Key West is home to a miscellanea of bronzed and bewildering souls, with a common quest to live an entirely unrecognizable story which no longer resembles their prior years found inside business suits, project deadlines, and a cubicle with a starched identity and a reserved parking space.
To simply say that Key West has charm and unique character far too simplifies its true vim and fascinating appeal. Once you wander away from the banal spots- the commonly encountered tourist ornaments and obvious beach-side attractions- one comes upon the captivating allure which enamors struggling artists, cloying romantics, and ocean-addicts. A haven for the dreamers and foolhardy- the misplaced and misunderstood.
Charm is found in places such as Charleston, South Carolina, Martha's Vineyard, and Craftsbury, Vermont. Unique character easily describes Alexandria, Virginia, St. Augustine, Florida and Austin, Texas. It is impossible to categorize Key West in these terms since it resonates with sights and sounds that are as much odd and offensive as they are intriguing and inspiring. The scenic views are interrupted with squalor. Its picturesque paradise contains blight and bruised flesh which does not hide in the sun-soaked daylight.
Cities often mask their decrepit nesters in obscure unmapped places so that eager and curious visitors never lie eyes on their filth and forsaken. Not the case in the Continental U.S. southernmost point. Key West, adorn in its flimsy attire, has no excuses and compulsion to veil its piteous parts. It's a shared and sacred community where both the wealthy and the wretched wear flip flops and maneuver down strait, blossom-bursting streets on rusted bikes.
The natural starting point for any newcomer to Key West is its famous Duval Street which runs between the shores of the Gulf of Mexico and the Atlantic Ocean. There is rousing music pouring out of overly used watering holes, flair-tinged boutiques, darling cafes, and galleries set inside drab two story buildings displaying works by local artists who offer up island images and profiles that are stunningly placid and real.
Many island visitors will seek out or happen upon popular destinations such as the Butterfly & Nature Conservatory, Fort Zachary Taylor State Park, Mallory Square, Ernest Hemingway's Home, and Truman's Little White House (which boosts a lengthy list of politicians and world leaders having arrived at the front door with an agenda and a need for rejuvenation).
Atop the La Concha Hotel is where locals and strangers converge at sunset to sip sweet libations from perspiring plastic cups and to watch nature give glory and radiance to her day's curtain call. The brilliance of the event invariably silences all who gather, suspended by the phenomenal beauty that lays upon the distant horizon.
If inspired, and equipped with sea legs, there is a plethora of water activities to partake in. The eden-color waters, made lustrous by the white sands and thick sea-grass underneath, are ideal for marine lovers who are able to fish, snorkel, cruise, or sail from dawn to dusk. Plenty of hardy and accommodating boat owners with leathery skin and wisps of coarse blond hair are at the ready to bring you aboard and regale you with their endless nautical tales of astounding catches, near-death shark encounters, unimaginable storm survival, and the discovery of a coral reef in a hidden ocean habitat.
Key West draws breath that is unusually deep, pressing upon the core of your being that rarely feels sensations like these. When dawn emerges each morning, the delicate, moist air, honeyed with scents of the native tropical flowers, innocently flirts with the palm and fruit trees, and lingers over the motionless, glassy water. Silence is disrupted only by an occasional chorus of birds, and emancipated, roaming roosters determined to announce the new day. It's an enrapturing scene that touches the purity of life. Key West allows denizens to recapture their naivety long lost to urban upheaval, damaged dreams, and pilfered pride.
At the corner of Whitehead and Fleming is the designated end and the start of U.S. Hwy 1. This unremarkable intersection recognizes the start and finish of a historic travel route that runs over 2,000 miles north to Fort Kent, Maine through many major East Coast cities. There are two independent signs, one facing south declaring 'Hwy 1 Ends' with a marker for Mile 0, and on the opposite side of Whitehead facing north stating 'Hwy 1 Begins' with the same marker. This one spot publicly proclaims where a direction of travel sets out and where it finishes, sort of like our personal highway of life, but not exactly. The difference is that when we reach an end, often unforeseen, in our own exuberant, unbridled narrative, the beginning is not so immediate.
Endings are the point at which something has stopped, or someone has departed. A piece of our world has ruptured. At the end, significance is confiscated and inspiration dies. It's where we feel sixteen again inside a tidal wave of anguish, uncertainty, and intense despair. It is where a heart once open becomes barricaded and a dream once dared is abandoned. Standing at the end of the highway, we are wrecked and wounded. There is a journey to be taken to reach a new beginning.
People move from an ending to a beginning at a pace that is all their own, and in a manner which makes sense to only their entombed, injured soul. Until the splintered pieces within are carefully repaired, and only after we break free of the pain which we had grasped tightly like tree roots to the earth, we cannot boldly begin the next chapter.
Once redeemed and ready, starting over becomes a thrilling notion. No longer disillusioned or disenchanted, we see the future with all of its grandeur and tingling possibilities. We feel profound emotions, unrestrained and nearly electric, which encompass our appreciation for having gained unclouded vision and undaunted potency from the ruination.
So there I stood at the corner of Whitehead and Fleming asking myself whether this compelling moment was, for me, the end of something or the beginning. I knew right away which side of the street reflected my true essence. And I had to believe that so many of these talented and tortured souls who make their way to Key West, looking for something more than homemade conch chowder, are themselves at a significant ending or beginning. Key West is a portrait of revitalized and refashioned lives who sought elemental island beauty to discover in themselves what is enduring and extraordinary. For those inking the final passages of one story or preparing to write a new one, this place of paradise and peculiarity makes sense.
Considering the amazing attributes and offerings of Key West, either side of Whitehead Street will most assuredly bring you where you are yearning to go.